SANDRA YUN
SENT BY KAIROS CHRISTIAN CHURCH TO
EAST ASIA.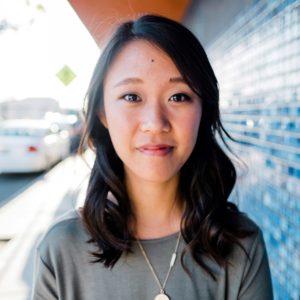 Sandra was born and raised in Alaska and moved to San Diego for college. After serving in East Asia, she moved back to SD and married Josh (also a past intern). She is currently working for the California Department of Public Health while studying for her Master of Public Health in Epidemiology.

1. When did you go on your 1-yr internship?
2014-2015
2. Where do you currently attend church?
Kairos Christian Church
3. How did you decide to devote one year to serving as an intern? 
I've always had this tug in my heart to go on missions, I just didn't know what that looked like. I went to East Asia for a summer trip and there I heard for the first time about the one year internship and I thought that was the perfect time for me to really explore what God is doing in this world and to further explore this calling I felt since I was young. My dad isn't a believer so it was hard bringing it up to him but by the grace of God he allowed me to go and I took that chance right away and I left the summer of 2014 and did'n't come back until February of 2016.
4. During your time as an intern, what roles did you play? 
As an intern I helped out with childcare for the missionary family, co-led a college small group, attended leaders meetings, did whatever needed to be done for ministry, helped coordinate summer camps for the missionary's business and discipled two college leaders. I also helped with all the different teams from the states that came to visit (for summer missions, retreats, etc.).
5. What is one realization or revelation that God showed you about Himself, people, and/or His kingdom as a result of your internship?
"Though the fig tree does not bud and there are no grapes on the vines, though the olive crop fails and the fields produce no food, though there are no sheep in the pen and no cattle in the stalls, yet I will rejoice in the Lord, I will be joyful in God my Savior." – Habakkuk 3:17-18
I had family struggles that carried over to my time at my internship but I've learned just how great our God is. I learned that even if everything else in my life goes awry, I have every reason to rejoice and be thankful because I have already received more than I deserve through what Jesus did on the cross. This truth became a reality for me and not just an abstract concept while on my one-year.
6. How has your experience while interning influenced what you are doing now and what you hope to do in the future?
Josh(my husband and past East Asia intern) and I are still in ministry serving college students in San Diego and we are awaiting the day we can go back and serve on missions. While on my one year, my heart for the broken grew exponentially greater which is the reason why I chose my career path. I hope to see God restoring individuals, families, and communities through the work that I do in public health.
7. How would you advise interns to maximize their experience while they are on the field?
One year is super short and before you know it it will be over. Be humble, be flexible, be teachable, be available, be patient and always PRAY. Take time to invest into the locals and the church. I learned so much from just listening to the stories of the missionaries and other church members and the sacrifices they had to make, and continue to make, to follow Jesus. It's really easy to gloss over that in the states, but for so much of the world it takes real sacrifice to follow Jesus. Learn and experience the preciousness of the gospel.