JOSHUA CHZEN
sent by kairos christian church to

east Asia

.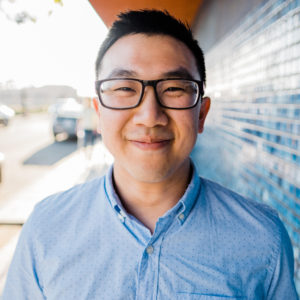 Josh serves as college pastor at Kairos Christian Church. He recently married his wife Sandra, who he met and won over during their college years at UCSD. Josh is originally from the SF Bay Area, but loves living in sunny San Diego.
1. When did you go on your 1-yr internship?
2014-2015
2. Where do you currently attend church?
Kairos Christian Church
3. How did you decide to devote one year to serving as an intern? 
Surprisingly, serving as an intern for a year wasn't the huge decision I made. The bigger decision for me was to forgo finding a summer internship after my second year of college to go on a short-term missions trip with AMI. It was during that two-week trip that God started to shift my priorities to center around Him instead of me – I understood that if I said I wanted to live for God, I better be willing to actually do that. After I got back, I decided that the 1-year internship was an opportunity I needed to take to see if longer-term ministry/missions was something God was pulling me toward.
4. During your time as an intern, what roles did you play? 
I spent a lot of time training up the worship team, especially in the beginning since they had all the English speakers! I would lead worship on Sundays and at weekly meetings, and meet with team members to build them up both spiritually and practically. Alongside that, I plugged myself into the community as best as I could, attending small group and building relationships. As my language improved, I became more involved with discipleship, leading prayer meetings, and preaching. I also got to help out with English corner outreach.
5. What is one realization or revelation that God showed you about Himself, people, and/or His kingdom as a result of your internship?
It was humbling to realize that a lot of our ideas about God and Christianity are heavily shaped by our American context. Although the initial culture shock wore off quickly, it took me a while to really understand that American culture is not greater than Asian culture. The gospel is not better understood in America than it is in Asia. And our way of doing church in America – the songs we sing, the way we preach, how we fellowship – isn't better than their way of doing church in Asia. As basic as it was, this realization was what shifted my ministry to come from love for people rooted in God, rather than pride in myself rooted in my experience.
6. How has your experience while interning influenced what you are doing now and what you hope to do in the future?
I went into the internship wanting to explore God's calling. I came out of it not quite knowing what was next; all I understood was that as a follower of Jesus and worshiper of God, His mission was very important to me, and I wanted to be involved with it no matter what. With that in mind, God and Pastor Peter allowed me to join the staff at Kairos. As I continue to learn and to serve together with my wife, I hope we end up wherever God is moving (but hopefully Asia) so we can take part in that mission – to glorify God to the ends of the earth!
7. How would you advise interns to maximize their experience while they are on the field? 
Rule #1-100: Be humble and be flexible – do whatever you can to build up the missionaries so they can better build up the church! When your focus isn't on yourself (i.e., when it's on God and others), that is when you can experience God using you the most – win-win!